Het andere bier van de herfst?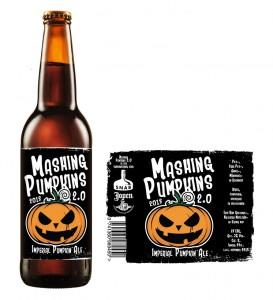 The other autumn beer?
Two speciality beer brewers from North Holland have joined forces to create a beer never before brewed by Dutch brewers. It is called Imperial Pumpkin Ale. This beer is brewed using pumpkin flesh and a range of herbs that are normally used in pumpkin dishes.
With the help of Facebook, it has been dubbed Mashing Pumpkins. On the one hand, this is a nod to the band called the Smashing Pumpkins and, on the other, there is a link to beer because the pulp-making process in copper boilers is called 'mashing'. In the USA, many Pumpkin Ales are brewed during the run-up to Halloween. This is the first produced by a Dutch brewery.
The pumpkin creates a smooth, sweet and rich flavour enhanced by the herbs that are added, while the higher alcohol by volume gives the flavour strength. The effect of the chilies and the smoked malt is noticeable in the finish. This beer is the result of collaboration with SNAB (North Holland Alternative Beer Brewers Organisation). The recipe has been developed in conjunction with Gert Roos from SNAB.
| | |
| --- | --- |
| Version: | Imperial Pumpkin Ale |
| Colour: | Orange |
| ABV: | 9,0% |
| Flavour: | Smooth, sweet, spicy |