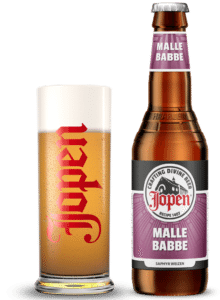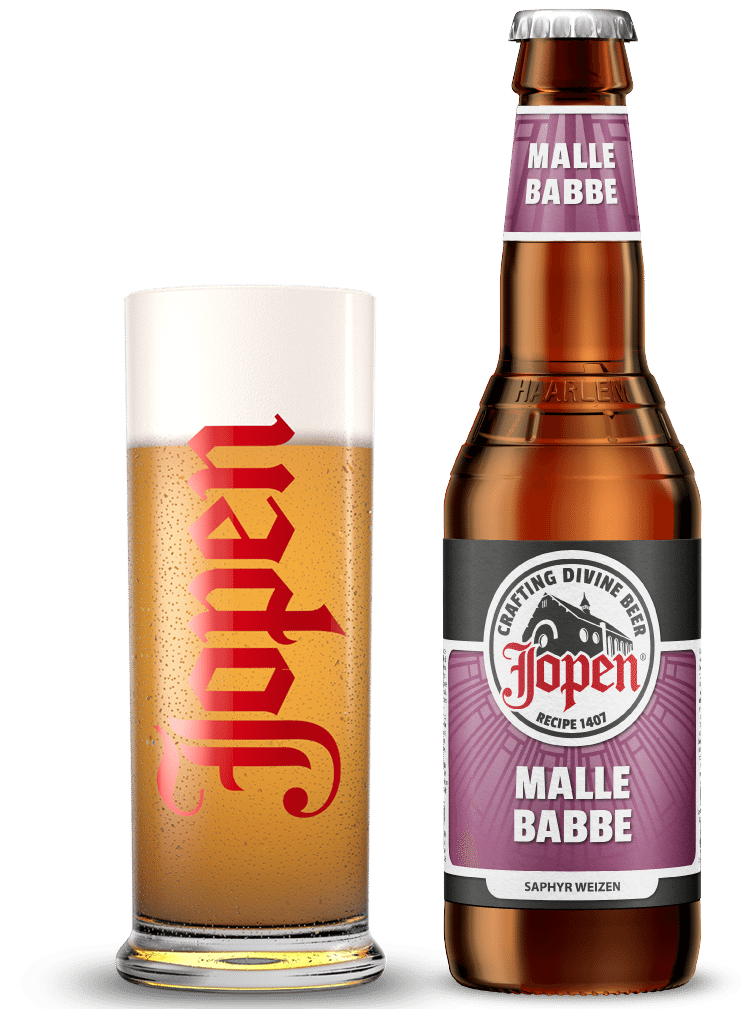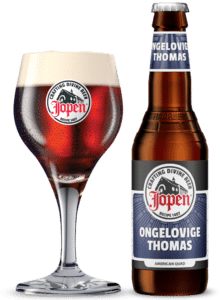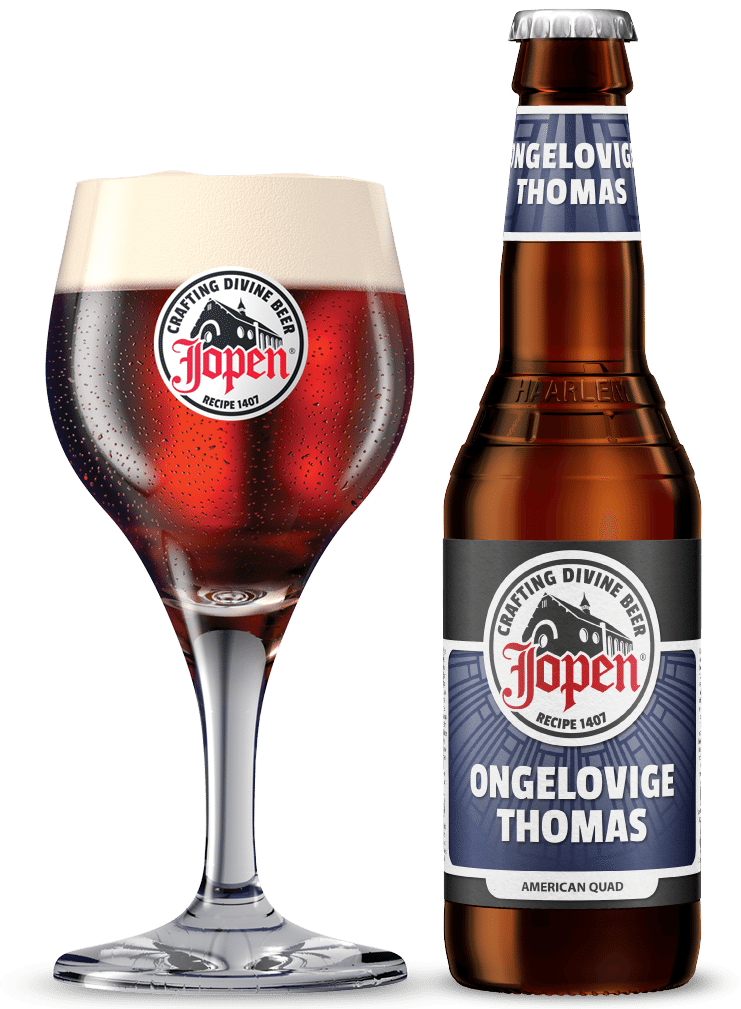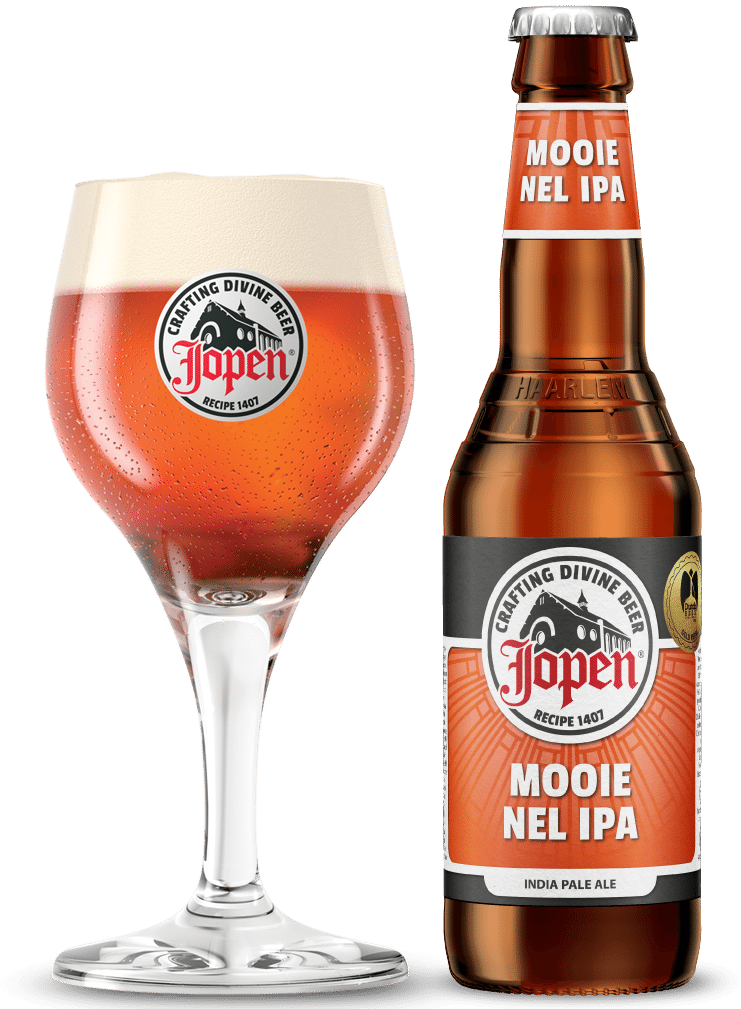 Jopen Mooie Nel IPA
Duraebel scheepsbier
Het beste bier van Nederland , 6,5%
IPA werd in de tijd van lange zeereizen extra zwaar gebrouwen en extra gehopt zodat het in de koloniën gedronken kon worden. Ook in Nederland hadden we onze versie van de IPA oftewel 'duraebel scheepsbier' voor Nederlands-Oost-Indië. Via de Amerikaanse Craft Beer Revolution is de IPA teruggekeerd in Europa.
De Amerikaanse hop in Jopen Mooie Nel IPA zorgt voor bitterheid met veel fruitige tonen. Jopen Mooie Nel IPA is vernoemd naar het water tussen Haarlem en Spaarndam en wordt buiten Nederland North Sea IPA genoemd.
Elke slok is een genot.
Heerlijk bij sorbetijs, fruitsalades en gedroogde ham
Drinktemperatuur

5 - 7 graden ° Celsius

Deel je smaak
Eigenschappen
| | |
| --- | --- |
| Kleur | Amber |
| Alcohol | 6,5% |
| Gebruikte hop | |
| Bitterheid | 70 EBU |
| Platogehalte | 16 ° Plato |
De brouwer over Jopen Mooie Nel IPA
Michel Ordeman vertelt over de smaken en aroma's van Jopen Mooie Nel IPA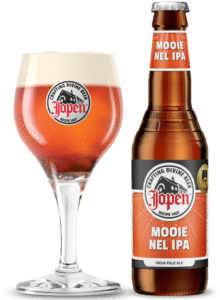 Kleur
Amber
Geur
Citrusfruit, tropisch fruit papaya, lichee en abrikoos.
Smaak
Een mix van fruit en bitters door de hoge hopgift.
Afdronk
Citrusfruit, dennen en bitterheid.
Smaakassociaties
In proeverijen worden de volgende smaken geassocieerd met Jopen Mooie Nel IPA:
On draft at Burg Bier Festival 2014. Hazy golden colored, medium sized head. Hoppy nose, tropical fruit. Smooth bitter flavor, besides hops also some malt character shining through. Seems like Jopen has chosen its Mooie Nel to be a more hop/malt balanced beer instead of a one-dimensional hop bomb. Too bad for the hop heads, but good for me :-).
Jerohen @ Ratebeer.com

Culicombi's
Bier is een uitstekende maaltijdbegeleider, veel beter dan velen denken.
Bekijk welke ingrediënten het beste passen bij Jopen Mooie Nel IPA.
Combineer Jopen Mooie Nel IPA met:
Prijzen

Jopen Mooie Nel IPA is regelmatig bekroond door nationale en internationale vakjury's en publieksprijzen.
Een overzicht:
2014

Brussels Beer Challenge Silver

2015

Dutch Beer Challenge Gold

2015

Het beste bier van Nederland 2015

2015

World Beer Awards 2015 – Silver IPA

2016

Dublin Craft Beer Cup 2016 – Gold

2016

Dutch Beer Challenge 2016 – Gold

2016

Nordic Beer Challenge – Silver

2016

European Revelation: Europa's beste