The idea behind Stripbier is for a cartoon artist to design a beer bottle, after which the artist can decide which beer gets brewed as Stripbier of the year. There have been six of these beers to date. Haarlem artist Hein de Kort set the ball rolling in 1998 with an amber beer. In 2000, it was the turn of another Haarlem artist, Joost Swarte, with a strong brown beer. Two years later, Mark Retera was the designer behind Dirk Jan Tripel. In 2004, Barbara Stok became the first female to join the party, and her choice was a wheat beer with white chocolate. 2006 belonged to artistic collective Lamelos and a golden 7% beer. Roel Smit challenged us in 2008 by requesting a 'hot beer'. Rock 'n Roel beer was brewed with Madame Jeanette chilies added to the boiler.
Jopen Stripbier 2014: Polleke Bolleke
Typex has been responsible for the 2014 Stripbier. Many famous comic characters are assembled on the bottle, with Joost Pollman portrayed as the central figure. Joost has been the driving force behind the Stripdagen (Comic Exhibition Days) in Haarlem for years. To honour him, Typex has dedicated the beer to Joost Pollman. The style of beer, the Tripel, is one of Joost's favourites. This Tripel has been brewed using Kasbek, Polaris and Mandarina Bavaria, 3 European hops varieties that are fruity by nature like American hops.
Jopen Stripbier 2010: Zwaar Werkbier (Hard Worker's Beer)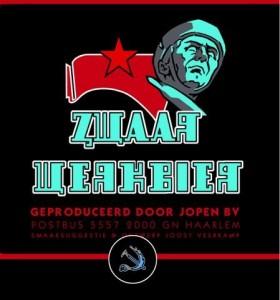 In 2010, Joost Veerkamp was lucky enough to design his own beer. Joost is from Heemstede, so this was almost a home match for him. He linked his design to the Stripdagen theme of the previous year, Eastern Europe. In designing his bottle, he gave the statue of Loutje (Lourens Janszoon Coster) in Haarlem an entirely different look. When it came to the beer, he expressed his preference for a true barley beer that was dark and rich in flavour with an ABV of higher than 10%. In 2010, a gift box for the bottle – containing the Zwaar Werkbier and a matching glass – was also designed for the first time.
5,000 cartons were produced, each holding a bottle of Zwaar Werkbier and a glass. Both were designed by Joost Veerkamp. Beyond Haarlem, Zwaar Werkbier was distributed by the Mitra chain and specialist liquor outlets.
The 2010 Stripdagen took place on Saturday 5 and Sunday 6 June 2010. Visit Joost Veerkamp's website at www.veerkamp.nl.
For more information about the Haarlem Stripdagen, please visit www.stripdagenhaarlem.nl.
Jopen Stripbier 2008: Rock 'n Roelbier (Rock 'n Roel beer)
It was hard to get away from Roel Smit at this edition of the comic exhibition days. He designed the promotional poster, exhibited his work at Keppel framing and organised an evening commemorating the release of his book Rock 'n Roel (a collection of his music-related animation) on Friday 6 June at Patronaat, where he also played with his hard-core punk band called Human Alert. And he came up with the Stripbier that was named Rock 'n Roel that year. A strong and peppery punk beer, ideally drunk while reading the book that shares its name or with a good dose of music at full blast!
A run of 15 trial brews preceded this Stripbier. The preferred brew was the beer made with Madame Jeanette chilies.
Rock 'n Roel Stripbier was released in mid-May 2008 and was distributed by the Mitra chain and by independent liquor outlets.
For more information about the Haarlem Stripdagen, please visit www.stripdagenhaarlem.nl.
Jopen Stripbier 2006
In 2006, the bottle was designed by a collective for the first time. The artists involved all work together under the banner of Lamelos. After a detailed tasting session, the artists from Lamelos decided that they preferred "a beer without extreme flavours, yet still nice and strong. A beer that is easy-drinking, but that lets you know – after your third – that it contains more alcohol than you expected." So, somewhat of a deceptive beer.
The 2006 Stripdagen took place on Saturday 3 and Sunday 4 June 2006.
Visit the Lamelos website at www.lamelos.nl. For more information about the Haarlem Stripdagen, please visit www.stripdagenhaarlem.nl.