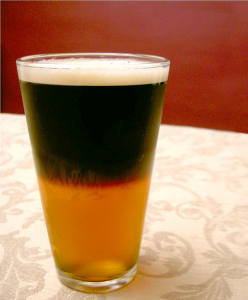 This beer was formerly very popular in England, often as a mixture of two beers on tap – a classic dry stout and a pale ale. We decided to take this a step further by blending our RIS and IPA. The result is an 8% Black and Tan with an intense flavour.
This beer has the fruity bitter flavour of the IPA and the burnt bitter flavour of the Holy Smoke.
We might combine other stouts and (India) pale ales. This means that the intensity and the ABV can change.
| | |
| --- | --- |
| Type: | Blended beer: 2/3 IPA and 1/3 (Lightly Smoked) Russian Imperial Stout |
| Kleur: | Black |
| Alcohol: | 8% |
| Smaak: | Burnt and fruity bitterness |