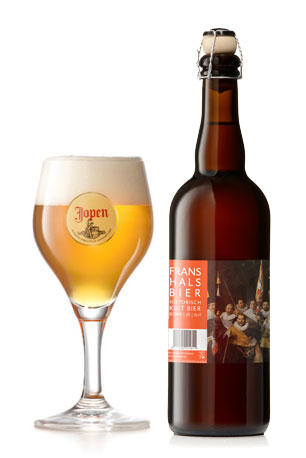 Frans Hals Kuit beer is golden in colour and contains 6% alcohol by volume. This top-cropping beer has smooth and crisp tones thanks to the oats and wheat, as well as characteristic hops bitterness. This beer is not filtered before distribution.
Kuit is an historic Dutch beer brewed throughout the Netherlands in medieval times, including in Haarlem. It was brewed with the use of three grains – oats (at least 45%), wheat and barley. It was the successor to Hoppenbier, which gained in popularity from 1501 onwards. The CNB (Campaign for Dutch Beer Styles) gave brewers the challenge of again brewing this old style of beer in order to re-popularise forgotten Dutch beer culture. Jopen chose to ferment its kuit with a Saison yeast strain to make the beer drier and spicier.
Because 2013 was declared the year of Frans Hals, Jopen named its kuit beer after this famous Haarlem artist. Jopen had previously named its wheat beer after Malle Babbe, the lady immortalised by Frans Hals in one of his paintings.
| | |
| --- | --- |
| Variety: | Kuit beer |
| Colour: | Golden |
| ABV: | 6% |
| Flavour: | Dry, spicy tones and a hops bitter finish. Fruity aromas. |
| Food combo: | Cheese |